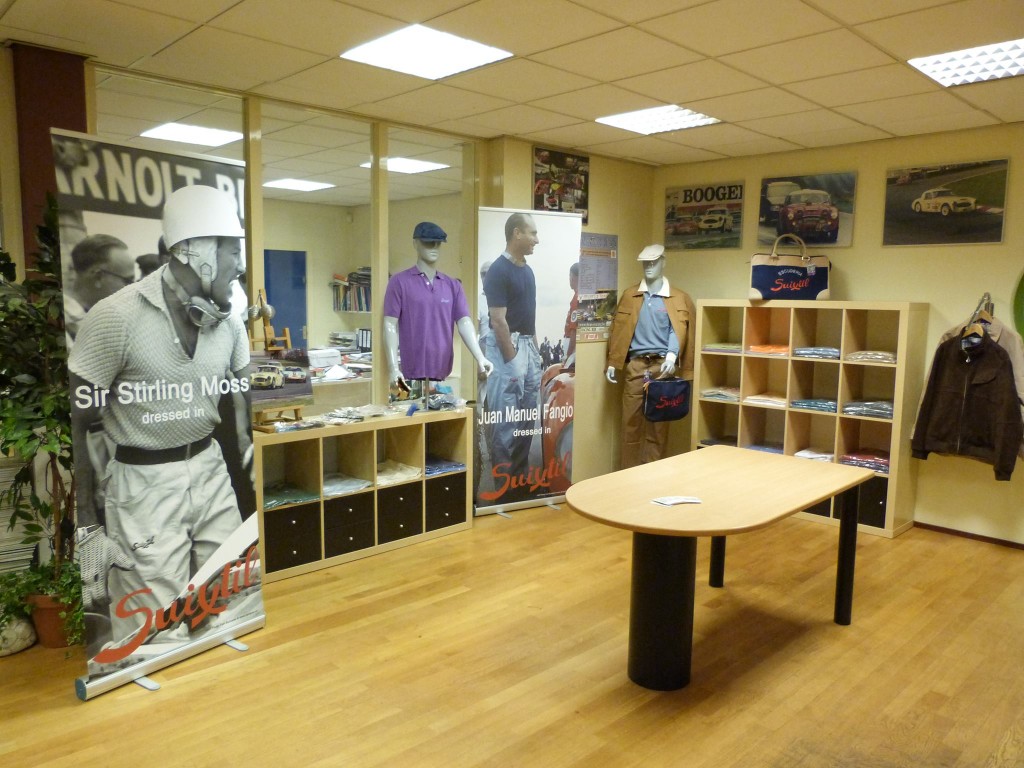 Our Suixtilshop.
Suixtil. At life speed
Suixtil grew into a well-known brand in Argentina in the 1940s and '50s, based on its high quality gentlemen's suits and its constant involvement in international car racing, a sport then as now full of heroism and glory that gave the brand its renown and cachet. In 1948 the Argentinean Automovil Club (ACA) created a national team of racing drivers to contest the F2 and F1 Championships in Europe. Juan Manuel Fangio, a 35 year old truck driver from Balcarce, was the star racer in the Escuderia Suixtil driver line-up. His Argentinean teammates were Benedicto Campos (1949), Jose Froilan Gonzalez (1950), and Onofre Marimon (1951). Suixtil was sponsoring the national team and supplying all the racing outfits, hence the name 'Escuderia Suixtil' .
Traditionally then, the specially crafted Suixtil racing uniform consisted of light blue race pants and a yellow or white short sleeve shirt, both proudly sporting the distinctive red Suixtil embroidered name. As the success and fame of the Escuderia Suixtil grew rapidly, so did the popularity of the Suixtil racing outfit. Fangio gladly gave away the Suixtil race pants and shirts to other F1 challengers and friends. The Suixtil race gear became the "must-have" outfit for any race driver in Europe and the Americas. It was the very first generation of professional race gear. For the remainder of the 50s, Suixtil raced many legendary Heroes to Glory and garnered an impressive and unmatched palmares. Today, the same Suixtil racing pants, shirts and polo's have become the foundation of The Heritage Line, a faithful re-edition of that original Suixtil racing uniform. This is what inspires the Suixtil brand and its design of the current and future Suixtil menswear, truly for characters who want to enjoy the best life has to offer, at Life Speed!